Located inside the Tree Adventure, Treetop Village is a fun-for-all-ages nature experience up in the trees. It is the only place in America where you can explore 11 different treehouses scattered across 3 acres and connected by unique bridges and netted walkways — all without ever touching the ground.
This uniquely designed attraction is the first of its kind in the U.S. And it's the first in North America to feature the WonderNet, a large, raised (and incredibly fun) area for jumping, playing, and bringing out the kid in everyone. Treetop Village also features a 50-foot slide you can race down and head back up again for more fun in the trees.
It's perfect for the entire family and accessible for everyone. It's also the only place in America where having fun helps plant trees in forests around the world!
Details
Open Year-Round
Fall Hours (Sept.-Oct.):
Tuesday–Thursday 9:00 a.m.–5:00 p.m.
Friday–Saturday 9:00 a.m.–7:00 p.m.
Sunday 10:00 a.m.–6:00 p.m.
Closed on Monday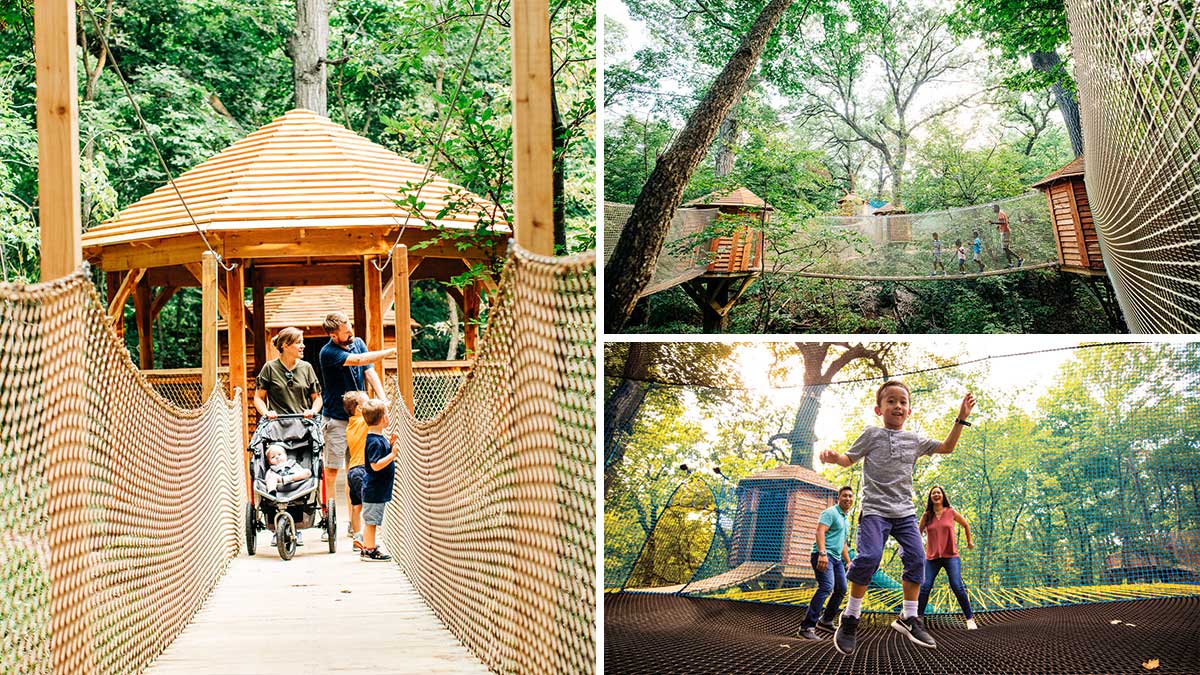 Rules for
Safe and Fun Play
For the best and safest experience on Treetop Village, we highly recommend guests adhere to the following guidelines:
Wear appropriate shoes such as sneakers or hiking shoes when on the structure.
Wear closed-toe shoes to go down the rope slide. Wearing pants, long shorts, or capris is also recommended to help prevent rope burn.
Maintain adult supervision for any children under 10.
Have 1 adult for every 4 children.
Follow all posted rules and listen carefully to directions provided by the attraction attendants.
During high-traffic times, children under 2 are not advised. For more information, call
402-873-8717
.